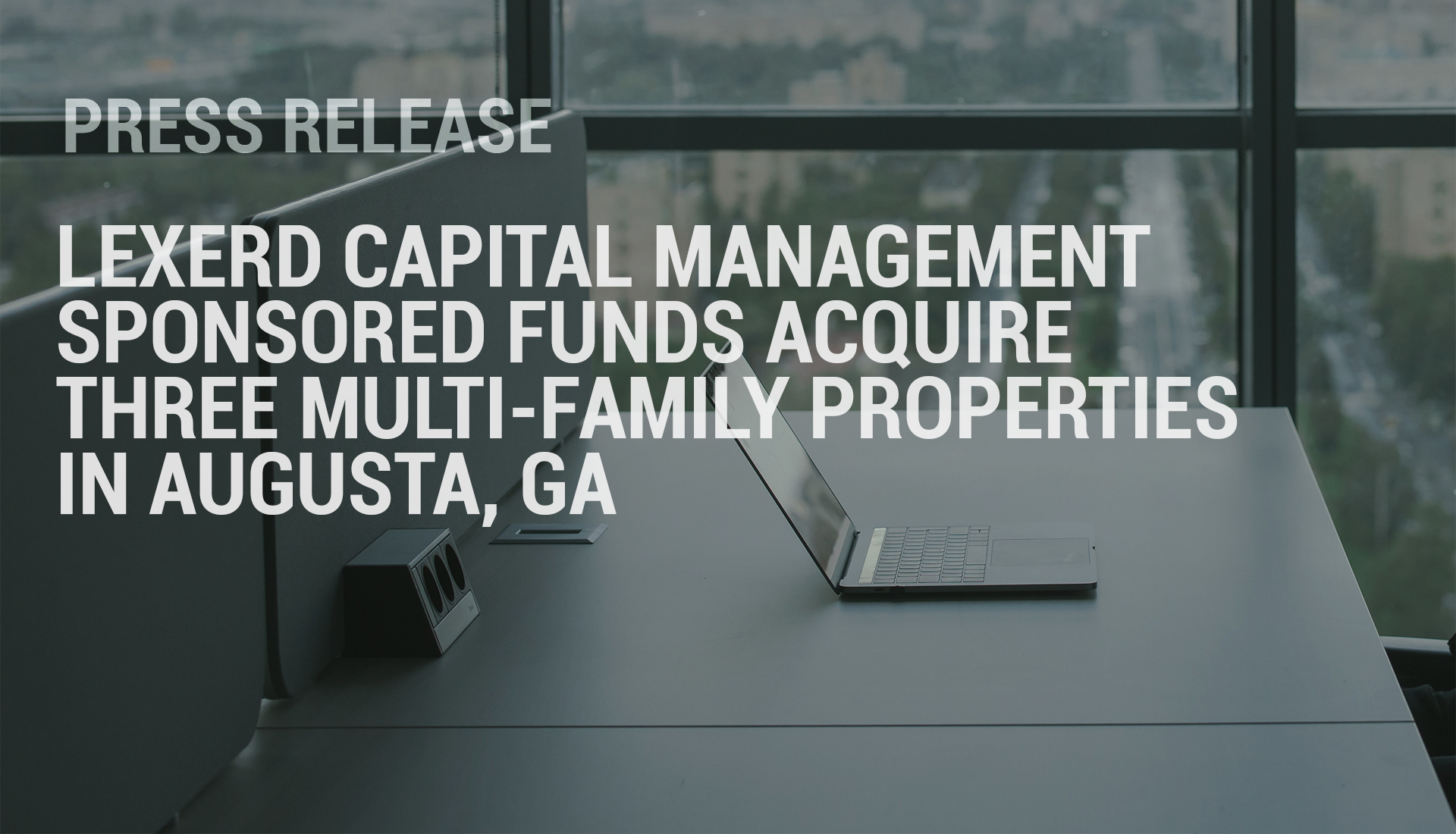 Lexerd Capital Management LLC Sponsored Funds Acquire Three Multi-Family Properties in Augusta, GA
Lexerd Capital Management LLC ("Lexerd"), a New Jersey-based sponsor of private equity funds, announced today that two of its funds have acquired three properties in Augusta, GA.  The properties include Parker Place Apartments, ("Parker"); Alexander Place Apartments ("Alexander"); and Arborside Apartments ("Arborside"), all garden style multifamily communities with 139, 127 and 180 units respectively.  Lexerd renamed the properties "The Lory of Augusta."
Terms of the transaction were not disclosed.
The city of Augusta is located in Richmond County, in the Piedmont section of Georgia. The metro Augusta area is situated in both Georgia and South Carolina, which is divided by the Savannah River.  Augusta enjoys some of the lowest unemployment rates in the nation driven by Augusta's Core "Demand Generators" known as the four M's – Military, Manufacturing, Medical and, of course, The Masters Golf Tournament.
The top employers in Augusta include Fort Gordon, the major army base that announced a new National Cyber Security Headquarters in 2016; Augusta University; Richmond County School System and the Augusta University Health System.  Private sector companies within the Augusta-Richmond County area include Textron Specialized Vehicles, such as E-Z-GO, International Paper, Covidien, Kellogg's and many others.
Internationally, Augusta is best known for hosting The Masters golf tournament each spring. The Masters brings over 200,000 visitors from across the world to the Augusta National Golf Course.  Augusta is approximately two hours east of downtown Atlanta via I-20.  Parker, Alexander and Arborside are all close in proximity to Augusta National, allowing for additional revenue generation in leasing vacant units during the golf tournament.
Albert Lord III, Founder and CEO of Lexerd, said, "We are excited to grow our southeastern portfolio through these three acquisitions in Augusta.  Parker, Alexander and Arborside are all well-maintained communities within the highly desirable area of West Augusta and near retail shopping, easy access to I-20 and minutes away from Augusta National.  We know this market extremely well having successfully purchased and sold an apartment complex minutes from these assets."
Mr. Lord added, "We continue to search for unique investment opportunities in the greater Southeastern US, focused on achieving strong risk adjusted returns for our investors."
Lexerd Capital recently launched their new brand, "The Lory" for all new multifamily portfolio acquisitions, starting with the "Lory of Braden River" in Bradenton, Florida.  A lory is a small, brilliantly colored Australasian and Southeast Asian parrot.  This launch will include a new brand, structure, logo and website. The Lory brand is the initial step in communicating the organization's enhanced platform and value-oriented strategy.