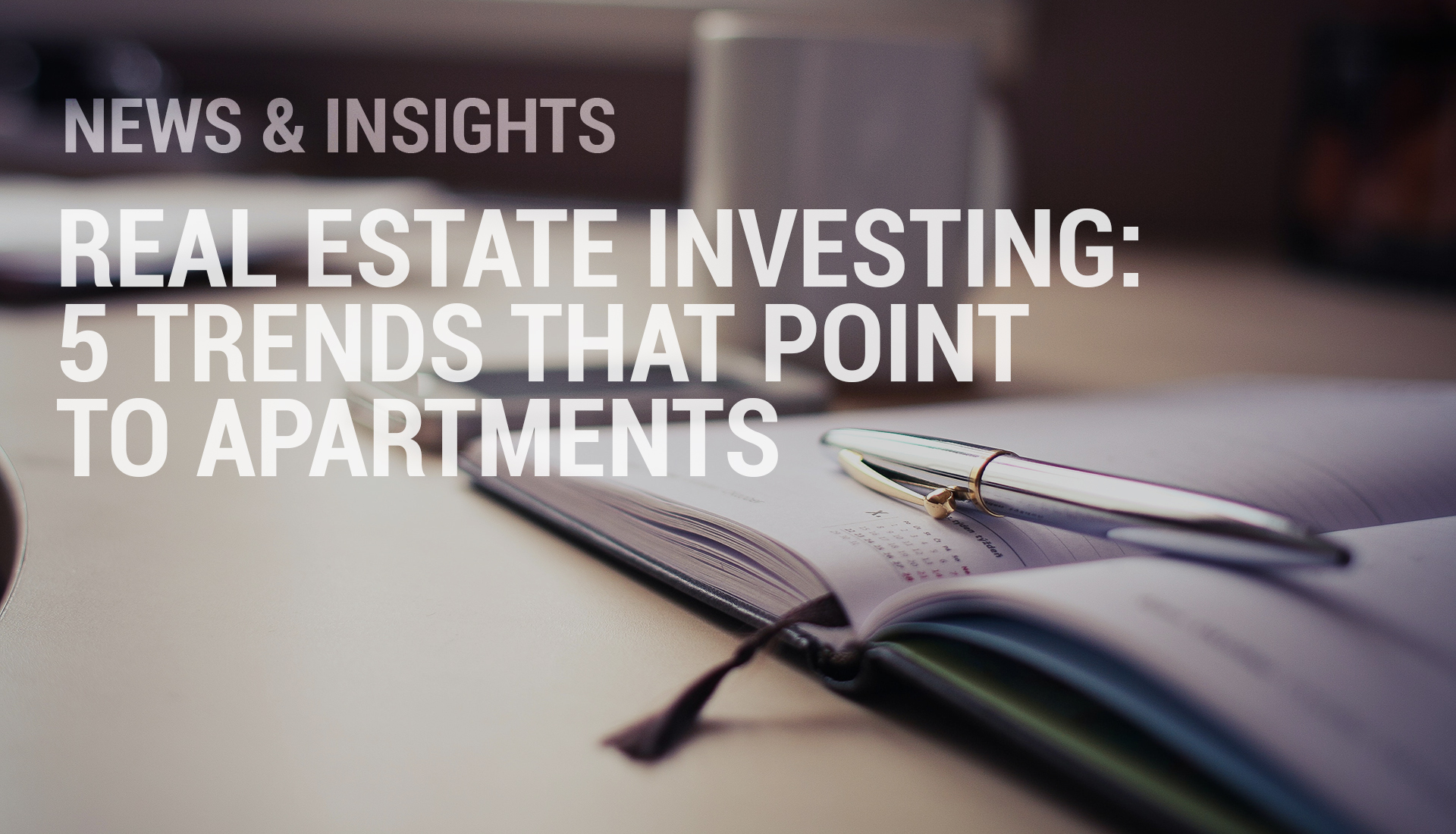 Real Estate Investing: 5 Trends That Point to Apartments
There are five current trends that point to apartments as the next best real estate investment for serious investors. These are low supply, high demand, rising prices, inflation, and a labor shortage. Let's explore. 
Low Supply: A Housing Shortage Spells Investor Opportunity  
According to research conducted by Freddie Mac, there was a shortage of 2.5 million residential units at the beginning of 2020. Zillow Economist Matthew Speakman said, in January of this year, that there was only three months of supply in the market. That's the lowest in about twenty years.
Today, long-term housing construction has fallen 5.5 million units short of historical levels. It's taken us 30 years to get here. While a building surge took off in the second half of 2021, the pace isn't keeping up with the shortage. From 2010 to 2020, fewer homes were built than during the 1970s. Yet, population growth has exceeded 123 million since 1970. Meanwhile, there is a national shortage of low-income housing for the poor.
Fannie Mae in May 2022 reported serious shortages in the supply of housing units in America. Overall new construction in May 2022 reached 1.5 million units, a decline of 14.4% compared to the previous year. The decline in new construction is more noticeable for multifamily units at 23.7% than single-family units at 9.2%. In addition, permits for future construction for single-family units declined 5.5% while permits for multifamily units dropped 9.4% compared to a year earlier.
The National Low Income Housing Coalition conducted a low-income housing analysis in March and concluded that there is a shortage of seven million affordable and available homes for extremely low-income renters. All of this spells a unique opportunity for real estate investors, both single-family and multi-family.
High Demand: Post-Pandemic Migration and the Home Buying Surge
Even before the pandemic, there was a growing interest in home ownership, especially among millennials. In fact, 89 percent of millennials would like to buy a home. Unfortunately, their financial situations are an obstacle. Nevertheless, as a result of the COVID-19 pandemic, 30 percent have leaped into home search mode. But there's still a question about whether these potential home buyers can afford the purchase. In May of 2022, Zillow reported that Housing Affordability reached 15-year low due to increases in real estate prices and mortgage rates.
Another dynamic created by the pandemic is intra-city moves. A great migration has occurred from inner city and downtown areas to the suburbs. Remote workers who no longer need to live close to work are opting to live in suburban communities. The hybrid workplace means they can work at home in the suburbs three days a week and drive into the office when necessary. Higher inner city crime rates also favor the suburbs.
These dynamics create new opportunities for real estate investors. The challenge is to provide affordable homes for buyers and with the right amenities for those who can't afford to buy.
Rising Prices: Another Opportunity for Real Estate Investors
Low supply and high demand are driving up real estate prices and rents. The average house price increase from April 2020 to April 2021 was 16 percent. Some areas in the U.S. saw an increase of 20 percent in house prices. Most recently, May 2022's median existing-home sales price of $407,600 represents a 14.8% increase from one year ago. Rental prices are also growing. In August 2021, the year over year increase was 11.5 percent. That's three times higher than rent growth before the pandemic. For multifamily units, Yardi reports that the average U.S. asking rent for apartments rose $19 in May to an all-time high of $1,680 with year-over-year growth at 13.9%. A similar report by Redfin finds that in May 2022 the median asking price across all rental properties increased 15% year over year.
There are several factors driving this growth in prices. A supply chain halt last year meant that builders had difficulty finding the materials they needed to build. In the last half of the year, when house buying surged, the supply chains opened. But the huge jump in demand for materials drove the prices of materials higher.
On top of that, builders are having a hard time hiring laborers. Many companies have had to raise wages to attract construction workers. The rise in the cost of materials and labor are driving up prices for home buyers and renters. Low housing supply coupled with a surge in multifamily construction and high demand for rental units means rents will likely continue to rise.
National Apartment Association estimates 4.6 million new apartments need to be built by 2030 to keep up with demand. With only 490,000 new apartments entering the market this year, the highest since the Great Recession, it's still not enough. Rising prices are a golden opportunity for apartment building investors. With house prices and rents on the rise, now is the best time to buy. Recent increases in Federal funds rates, projected to reach 3.4% by the end of the year will certainly act as a decelerator, but most likely will moderate increases, not reverse the trend. 
Inflation: Rising Prices Are the Signal to Buy Now
The Federal Reserve projects an inflation rate of 5.2% by the end of 2022.  If you compare the annual rate of inflation from April 2021 to April 2022 the increase is 6.3%. When inflation rates are too high, the Fed raises interest rates as it did most recently by 0.75% in June 2022. Otherwise, people keep buying, driving up demand for products and services, which continues to raise prices. The danger is runaway inflation and a shortage of goods. Interest rate hikes slow the economy down, but the effect is not immediate. That means increases in inflation we've seen in the last three months is likely to continue until after the Fed acts with more rate increases that will impact mortgage rates. Indeed, mortgage rates have increased as the Federal Reserve adjusted the funds rates to moderate inflation increases. In June 2022 mortgage rates stood at 5.81% compared to 3.02% a year ago. Prudent real estate investors will buy now to avoid exposure to even higher mortgage rates in the near future.
It's even more vital for apartment owners. Apartments offer an inflation hedge because leases renew every 12 months. As leases renew each month, landlords can raise the rent. 
There is a hidden inflation lurking beneath the economic surface, making inflation seem lower than it really is. And it's not transitory. When you must pay a worker a higher wage to keep them, you can't come back when inflation is lower and say, "We're going to pay you less now." Overall, rents have grown the fastest in the last year than they have in 15 years. In some parts of the country, year-over-year rents grew as much as 12.2 percent in April alone.
Historically low interest rates and higher inflation mean now is the perfect time for real estate investors, especially apartment owners, to borrow money and invest in the right properties.
Labor Shortage: Higher Wages Leads to Higher Real Estate Prices
Last year's pandemic wreaked havoc on the labor market. Mandatory business shutdowns in many states meant workers were unemployed for months, and they received higher-than-normal unemployment benefits as an incentive not to work. When the economy sprung open, many workers were not ready to get back to work. As new construction surged toward the end of last year, builders had a hard time finding laborers. That has led to an increase in wages and hiring bonuses, cutting into builder profits. The only way to account for those losses is to raise prices on the product. Once again, a labor shortage means investors, especially small and solo multi-family investors benefit.
Apartments Are the Best Real Estate Investment Right Now
Take any one of these real estate trends and all you have is a trend. Put all five together and there's a golden opportunity for investment. 
_______________________
Albert L. Lord III is the Founder and Chief Executive Officer of Lexerd Capital Management LLC. Lexerd is a real estate firm that primarily sponsors investments in opportunistic multifamily assets throughout the United States.